https://www.samsung.com/us/watches/galaxy-watch5/buy/?cid=sem-mktg-pfs-wea-us-google-na-11092022-170267-&ds_e=GOOGLE-cr:0-pl:341638531-&ds_c=FF~Core-Watch5_CN~GW5_PH~on_MK~usnat_BS~me_PR~wearsmart_SB~gw5_FS~lo_CA~kew_KS~ba_MT~exact-&ds_ag=AG~Core_MK~usnat_AT~ta_MD~h_PK~roah_PB~google_AI~no_TG~na_SA~mass-&ds_k=samsung+galaxy+watch+5&gclid=Cj0KCQiAlKmeBhCkARIsAHy7WVujDfBLaIgCOm8WvRieKXqThff3SRwkVaB0muIRY-GW31o4_KKd8_caAr7CEALw_wcB&gclsrc=aw.ds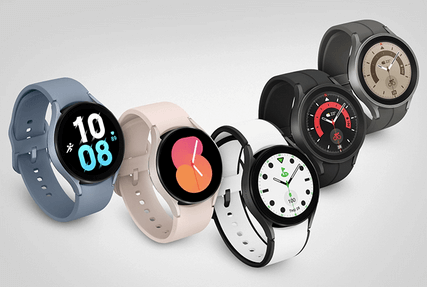 Price: $104.99
Description:

Meet your new sleep coach
Develop better sleep habits with Advanced Sleep Coaching
that helps you manage your overall sleep quality.
Get smarter about your body
Get stats that help you be at your best with body composition info right on your wrist — everything from body fat readings to your Body Mass Index (BMI).
The Samsung BIA is a body analyzer that uses bioelectrical impedance analysis (BIA) technology to track body composition based on weight, body fat, body mass index (BMI), skeletal muscle, body water, and basal metabolic rate (BMR) measurements. It is not intended to specifically diagnose or treat a medical condition.
Tracking that's state of the heart
Get accurate wellness readings thanks to an improved, curved sensor that gets closer to your skin.
Track your outdoor adventures
Whether you're running, swimming or rowing, make the most of every outdoor adventure with Auto Workout Tracking.7, 8
Power that keeps up with you
Stay powered up throughout your busiest days with an improved battery9 that can keep up with you.
Made for active lifestyles
Do all your daily routines with confidence — the sapphire crystal glass face is 1.6x stronger10 to stand the test of the hardest days.
Synced. Ready for adventure.
Bring your Galaxy devices into perfect harmony. Stay connected on your adventures when you sync Galaxy Watch5 to your other Galaxy mobile devices.
A look for every workout
Show off your sense of style. Customize your outfit with a wide array of band12 and watch-face choices that can match any mood or look.
12 Select interchangeable watch bands sold separately.